Technical Services for POD Publishers
&
Publisher Consulting Services
Have you written a fiction novel or a nonfiction book that you would like to publish? It's more simple than you could imagine.
"...a 'must' for any aspiring self-publisher..."
Midwest Book Review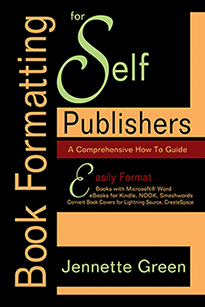 Easily Format Books with Microsoft Word; Format eBooks for Kindle, NOOK, Smashwords; Convert Book Covers for IngramSpark, LSI, Barnes & Noble Press and KDP
Visit our new site, Self Publishing Nerd, to access all of our new and updated services.
We offer book cover and book interior conversions for LSI, IngramSpark, Barnes & Noble Press, and KDP:
If you would like your book cover to meet LSI, IngramSpark Barnes & Noble Press, or KDP's requirements, please send us your cover in 300 dpi resolution in .tiff, .jpg, or .pdf format. Also, please send along the original IngramSpark, B&N Press, or KDP template for your book in PDF format.
Turn around on cover conversions is usually 24 hours after we've received your files.
Monday–Friday, regular business hours, Pacific time.
Please contact us directly at diamondpresspublishing [at] gmail [dot] com
If you are having problems with your cover, we can probably fix it!
We also offer publisher consulting services for POD and eBook Publishers
If you are new to the POD or ebook publishing fields, and need advice to get started, look no further. We provide reasonably priced consulting services at $40 per hour. Contact us via email and send us your list of questions. We will review your list in order to be prepared for your call.
We have five years of experience in the POD and ebook publishing field, which includes providing advice to numerous authors and publishers about publishing in general, as well as technical advice and services regarding submitting covers and files to LSI, IngramSpark, B&N Press, KDP, etc. In addition, we have converted over 100 cover files for LSI, IngramSpark and KDP for our satisfied clients. It is our goal to help authors and publishers become successful, independent publishers.
If you need help, contact us!
Thank you for thinking of Diamond Press.
Diamond Press produces high quality digital services for publishers. We produce your files so you don't have to invest in expensive software in order to publish your book. We offer reasonable fees, the best quality work, and fast turn around time. We work with publishers and also authors who would like to self-publish their work. The following are the services we offer:
Listing of Services
Lightning Source, IngramSpark, Barnes & Noble Press, and KDP:
Send us your Word document or PDF file, and we will convert it to PDF/X-1a:2001 format for you. We use Adobe® Acrobat and Adobe Distiller® to create files that meet publishing requirements. (We produce PDF files that are PDF/X-1a:2001 compliant.)
Charge for converting your formatted and finished book interior file: $ 10
Send us your cover template generated by IngramSpark, LSI, KDP, or B&N Press in PDF format. In addition, send your jpg, tiff, or Adobe Photoshop® file of your cover (at 300 dpi and sized appropriately for your template (including the extra area for "bleed" and trim, as delineated in your template)). If we have to make modifications to make the cover properly fit the template, an additional $10 fee will apply. After we have received these files, we will produce a cover file that meets Lightning Source's requirements. (The cover files are PDF/X-1a:2001 compliant.)
Charge for converting your cover image to a finished book cover PDF file: $ 35 *
Special combination price:
Combine an interior book block and book cover PDF conversion for $ 40
* The price of $35 includes converting a cover image to B&N Press and LSI's required 240% ink saturation limits. Please note that applying this requirement to the file will produce a color change (usually dulled colors). To prevent this from happening, submit cover files that meet the 240% ink requirements. If this is not possible, please know that we do our very best, using Photoshop adjustments, to keep your image as close to the original colors as possible. Exact matches, however, are impossible. Satisfaction is guaranteed before payment is due.
We can convert files in the following formats into PDF or PDF/X-1a:2001 formats:
1. Word
2. RTF text files
3. JPEG or TIFF files
4. And many more file formats. Just ask!
Price: $ 10
We also convert Word files to ePub ebook files. NCX included. Please contact us for a customized estimate for your ePub conversion project.
We convert JPEG, TIFF, and other RGB image files to CMYK.
Price: $ 10 per image
We convert JPEG, TIFF, and other color images to grayscale CMYK (or RGB).
Price: $ 10 per image
If your book cover image is not showing up at retailers, such as Amazon, it may be because the book cover is not uploaded onto iPage. Check your iPage account. If your book cover is missing, we can upload your book cover image to iPage directly, via FTP. Once the cover is on iPage, it should show up on Amazon within a few working days. Please send us your jpg or tiff cover file that meets the following specifications:
1) Sharp, clear image that is 72-300 dpi
2) Image is at least 648 pixels tall
3) Image named by ISBN (for example, 9780984404407.jpg or 9780984404407.tif)
Also, please send a link to your publisher or author website, so we can verify that you have the authority to request the cover image upload.
Price: $ 5
I have extensive (more than 25 years) of experience in proofreading, editing and copyediting. For copyediting, I adhere to the Chicago Manual of Style, which produces a manuscript that meets professional, publishing industry standards.
Price: $ 25 per hour, or contact Diamond Press for a specific quote for your project
We use either Microsoft® Word or Adobe InDesign to produce book interiors. Both novels and technical manuals are produced with the highest attention to detail and synergy of design elements. Conversion to Lightning Source and CreateSpace standards is included in the price.
Price: $ 30 per hour
* At this time, we rarely take on additional website clients--please contact us with your details for more info.
We provide website design services for authors, artists, professionals and individuals, and we also customize WordPress templates in order to meet our customer's needs. We specialize in html and CSS coding. (We do not offer PHP (except for contact forms) Java, or ASPX programming.)
Price: $ 30 per hour/Contact us for a quote
"Diamond Press has been nothing less than efficient, economical, and professional in formatting our book interiors. Jennette's meticulous attention to detail makes her services invaluable to publishers!" -Dr. Rocco L. Martino, BlueNose Press, Inc.
"Thank you for your excellent work and fast turn around." ~ Bill Bremer, Author of "Kingdom Relationships: Now and Forever" and "Being and Doing: to the Glory of God"
"With a deadline looming, I was just beginning to look around for information about formatting my book for printing by Lightning Source and electronic publishing. I'd heard doing so was easy for some people, and a nightmare for others. My money was on "nightmare." . . . This summer's issue of Poets & Writers has a feature in which one self-published author describes the process of file conversion as something she'd have had someone else do for her if she had it to do over again. If I divide the amount of money I paid for Jennette's services by the number of hours I'd have likely spent (in total frustration) to get a usable product, I'm sure I would have "paid myself" less than minimum wage per hour. It's simply something for which you're far better off paying for someone's expertise than trying to do it yourself, especially with the rates Jennette offers and the results she guarantees!" - Nathan Carriker, A Silver Ring
"I just wanted to thank you for all your work and the time you spent helping me get my files ready for LSI. I'm so impressed with you and your work and I will definitely be recommending Diamond Publishing." ~ Wyatt Knapp, Onagocag Publishing Co.
"Jennette very quickly converted my image file into a CMYK-compliant [cover] file for the printer Lightning Source. She provides an economical service for publishers not yet ready to invest in expensive software, and she is highly communicative throughout the process." ~ Grace Bridges, Splashdown Books